Investment rounds can be a time-consuming process, often involving extensive due diligence and negotiations, leading to delays in funding for promising startups. Saddle up for a refreshing and efficient experience for entrepreneurs seeking capital to fuel their ventures!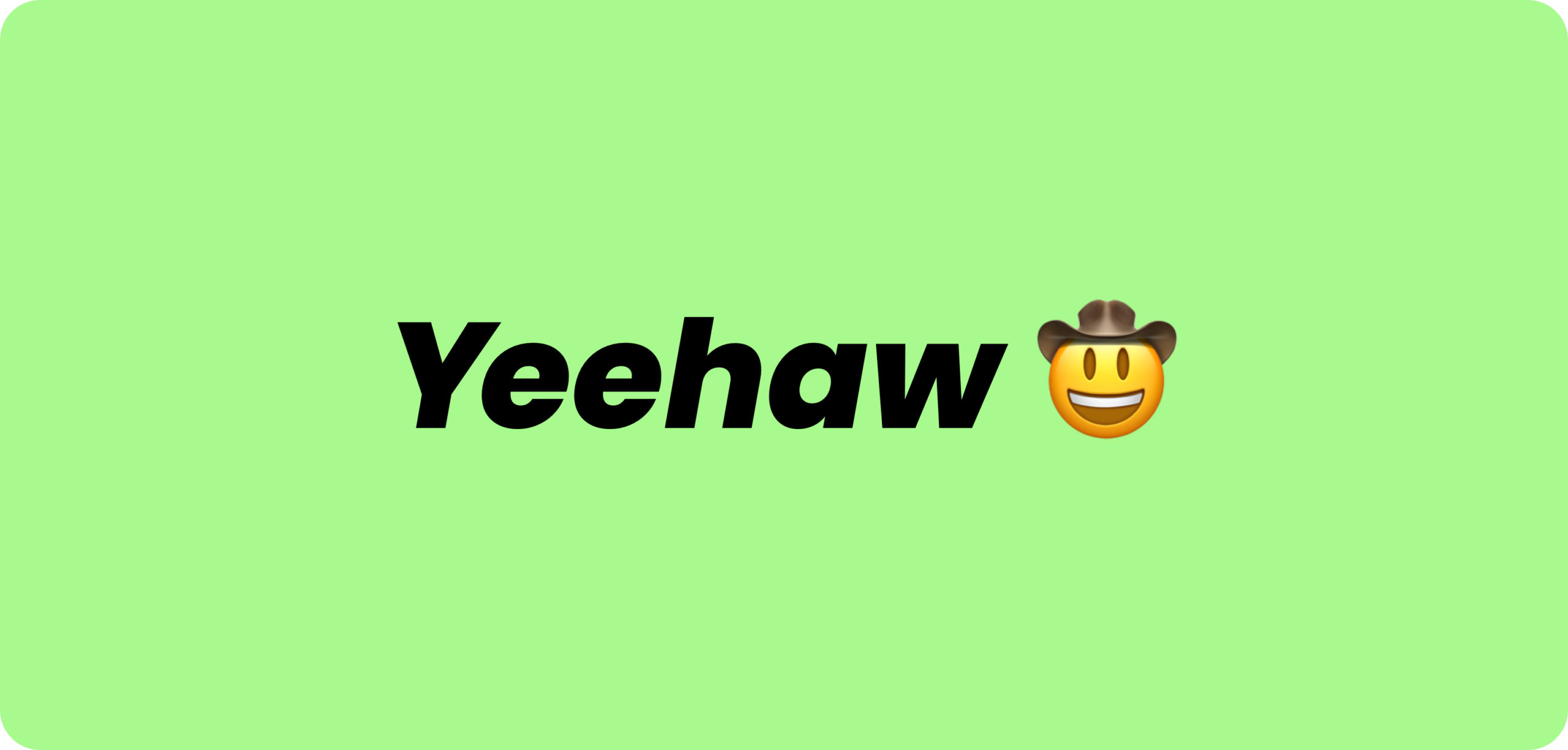 Cavalry is a Berlin based VC firm investing in companies that are on the path forward to effect positive change. With their early-stage venture fund they invest in software businesses across Europe in an "as early as it makes sense for the company" stage – often pre-product and pre-revenue.
Cavalry reached out to Studio VEH to sharpen their brand identity with a focus on their tone of voice. The aim: reflecting their attitude of keeping things simple and upfront without unnecessary due diligence – and, thus, reflect the brand name Cavalry:
In the fast-paced world of technology and entrepreneurship, Cavalry stands out as the prominent force in the realm of venture capitalism, that rushes in and fights the battle hands-on alongside you like a true cavalry.
Saddle up for an amazing brand!
Cavalry exists to actively support founders in tech by providing capital, through operational support, and by activating an extensive network of entrepreneurs, scientists, industry experts, and specialists.
After having sharpened the above vision and mission of the company, the next task was to define their tone of voice as the core element of the brand.

We try to write like we talk. That's our kind of professionality. It's authentic. It comes from the heart and is shot from the hip.
Writing like you speak will help to establish a rhythm. For example, after a gunfire of words, a reader needs a little pause.
Right?
Let's have a look at our brand character, and the language to convey it:
We're fun! 🥳 Because success is fun. And success is easier to reach if you have fun doing so.
Thus, we speak enthusiastically (but not overly cheery). So we use words like yay!, Friyay, and amazing. 🙌
We are supportive (but not overbearing), we celebrate success, we are inspired by achievements and we try to encourage
new ideas. 🚀
As the team rides forth as the modern-day cavalry, standing tall, upfront, and unyielding in the commitment to champion honesty and transparency, this also reflects in their brand manifesto:
To every changemaker, dreamer, idealist, yeasayer and pioneer who steps up to a challenge:
We've got your back – all along the wild ride ahead of you.
We will share with you lessons learned from our past battles so that you can be even better with us. Your tech product is going to make life easier for others? We will stand by you with our vast network of expertise, our hands-on experience, and our quickly established funding scheme.
So, stop counting tumbleweeds.
Saddle up to ride with us and – once and for all – take it easy.
We're not a mirage. We are the hard working, setbacks toughened bunch of riders with quite a few war stories in tow. We're the good so you can achieve great.
We're the reinforcement.
We are Cavalry! 🤠
Vibrant Green and Yeehaw Yellow
This powerful brand reinforcement also had also to be reflected in the visual identity. We gave their existing word mark a little makeover and made it move. In addition, we defined a vibrant green as the main brand color to reflect both the brand's bold attitude and its focus on tech businesses.
From there, we developed a full design system, starting with the social media appearance, resulting in a full brand identity manual with detailed guidelines in order to enable the Cavalry team to create future brand assets independently.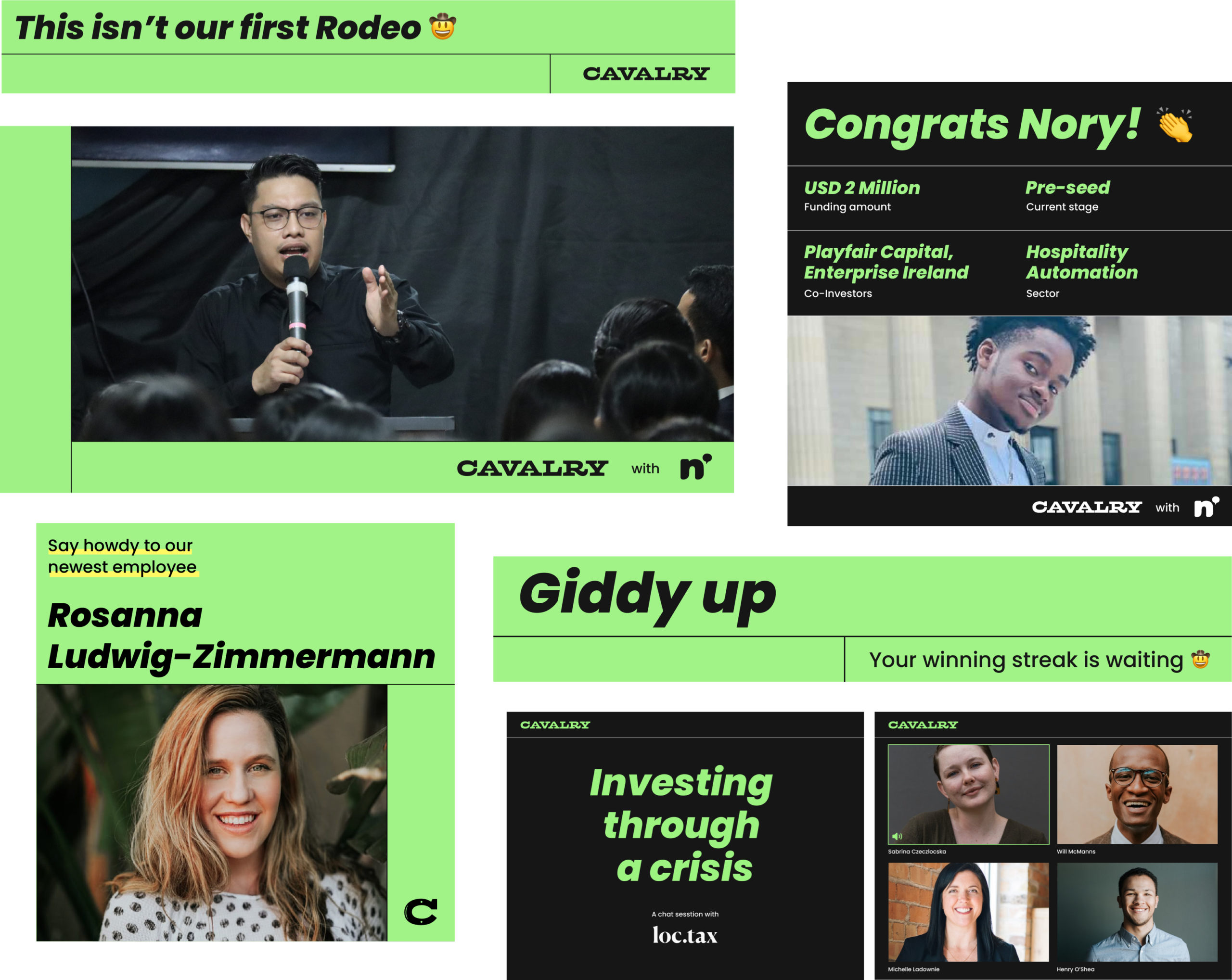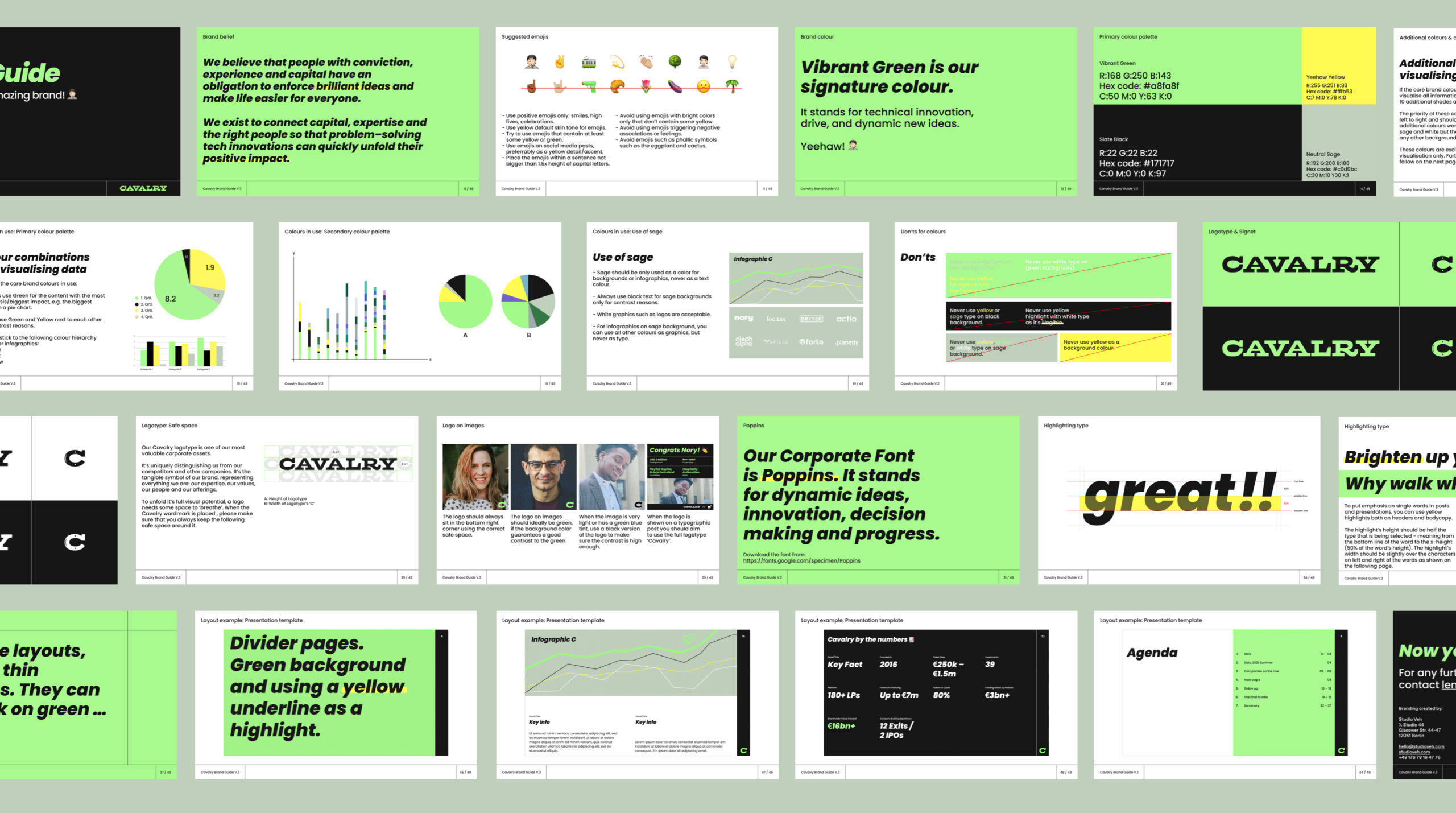 Strategy: Franziska Veh, Mark-Marcel Müller
Creative Direction: Franziska Veh
Text: Mark-Marcel Müller
Art Direction: Anna Lind Haugaard
Design: Aditi Kapur, Callum O'Neill
Project Management: Kiyoshi Stelzner