The world is ever evolving, but how does a corporate with 150 years of company history stay current on the international market? Studio VEH's answer: through a decisive realignment and a strong, independent positioning.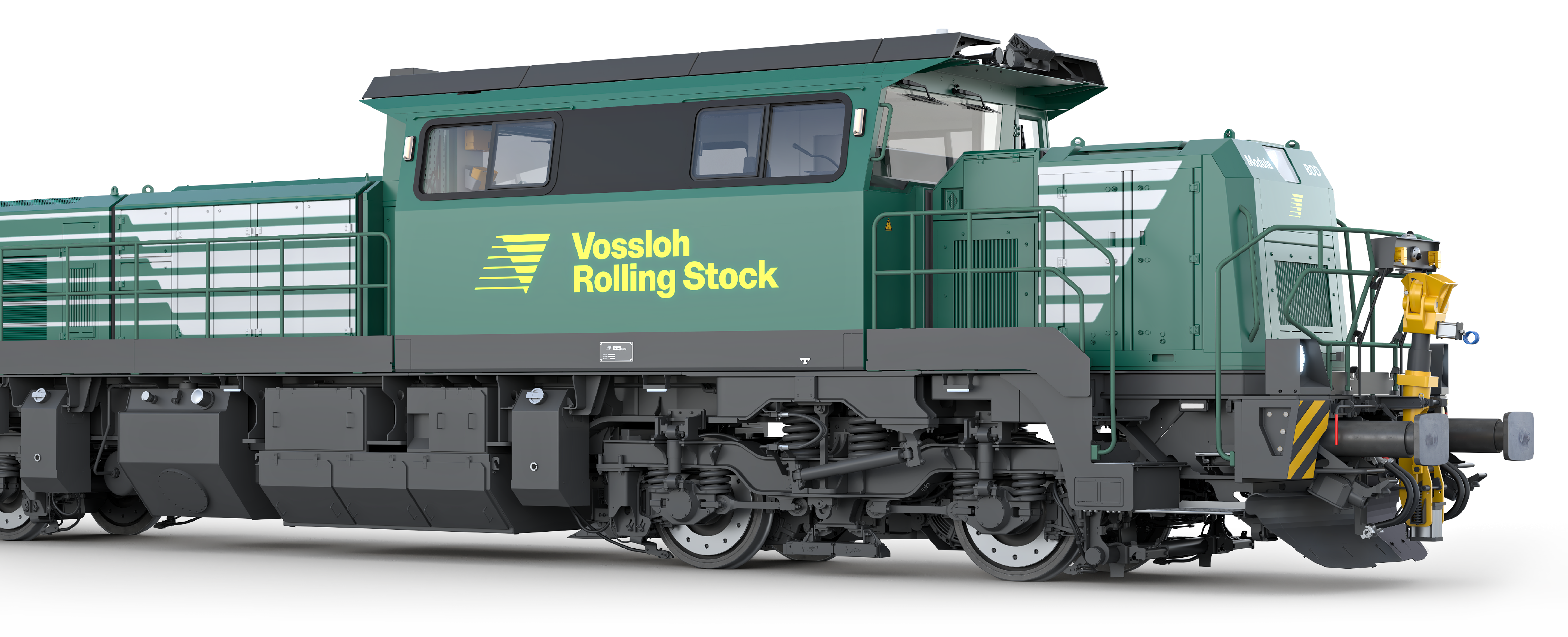 Vossloh Rolling Stock is building rail vehicles and platform concepts that constantly set new standards in their respective fields of application. With the new partnership with CRRC ZELC, new opportunities to make an important contribution to safe and eco-friendly freight transportation throughout Europe are presenting themselves.
Therefore, Vossloh Rolling Stock partnered up with Studio VEH: Over the period of 12 months, Studio VEH created everything from the new brand strategy, claim, product naming to a full visual identity including an extensive brand guide for both the brand Vossloh Rolling Stock and their europe wide service network, IMATEQ. In the next step, Studio VEH also developed and planned the full launch communication across all communication channels for the big launch at Germany's biggest railway fair — InnoTrans.
We believe it is important not only to anticipate what lies ahead, but to grasp how what is coming may change the context of our lives and work. Hence, it was consequential for us to ask the question: What does Vossloh Rolling Stock want to stand for?
After an extended competitor analysis and the development of a market matrix through various workshop sessions, we identified two strong trends in the market: Sustainability and adaptability. Both two strong aspects to help define the image territority and positioning of the brand.
Looking at the recent major developments in the railway transportation sector and the expertise of Vossloh Rolling Stock, the positioning became quite clear: Vossloh Rolling Stock is the specialist in sustainable adaptability.
Vossloh Rolling Stock pride themselves on working closely with their clients to design customised solutions. Individual and adaptable to their needs. They believe that only consistently expandable and flexible engines are sustainable and future-oriented in our ever-changing times.
This commitment is now expressed in their new claim: Sustainability in motion.
Intelligent rail logistics stands for climate protection and low-emission economic growth. This requires not only a more efficient infrastructure. At the same time, the Europe-wide renewal of locomotives is on the agenda.
Vossloh Rolling Stock comitted themselves to play a significant role in shaping this development and thus actively contribute to climate protection.
This claim is embodied in their new brand vision and mission and led to the company's core values:
After defining the brand values, Studio Veh started developing the visual identity. Like Vossloh Rolling Stocks brand values, the brand's design ethos and principles must be palpable in everything produced, internal and external.
The new Vossloh Rolling Stock mark reflects a steady, grounded yet modern take on a brand that has not only existed for over a century with a rich history, but has thrived and become stronger overtime.
The figurative mark represents the flexibility and versatility experienced with a Vossloh Rolling Stock locomotive or service. It embodies a consistent and smooth transition and emphasizes a uniting force that is moving forward with confidence.
To convey Vossloh Rolling Stock's brand values as reliable yet adaptable and to maintain a consistent brand appearance across all media and channels, we developed a customized corporate font: VosslohRollingStock Whyte.
The new corporate typeface from Vossloh Rolling Stock is a customized version of ABC Whyte, created by the type foundry Dinamo. The typeface, VosslohRollingStock Whyte, has a strong horizontal approach and caters towards the horizontal alignment of the new identity.
For all layout applications, Studio VEH developed a consistent yet flexible design system to ensure the brand's consistent appearance across all media and channels.
For details, please visit their digital brand guide:
https://brand.vossloh-rs.com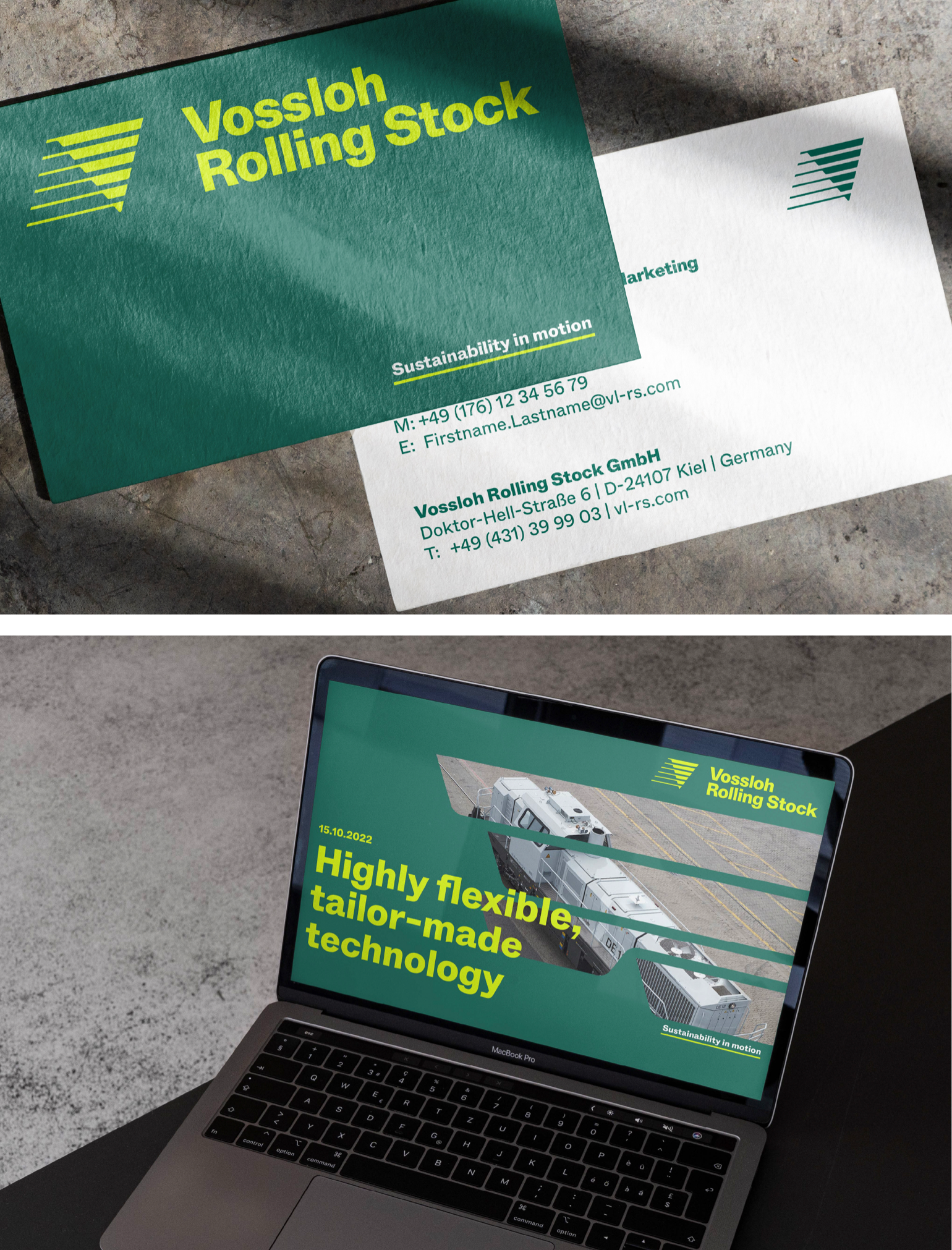 After the development of the visual system and the creation of the digital brand guide, we were responsible for the full launch communication around the international fair InnoTrans, where the new identity of Vossloh Rolling Stock and IMATEQ was officially presented for the first time. Planning all channels for internal and external communication – for employees, customers, press – pre and post launch, Studio VEH created a full roadmap for the rollout and various applications such as memos, presentations and the official press video for the kickoff event at InnoTrans.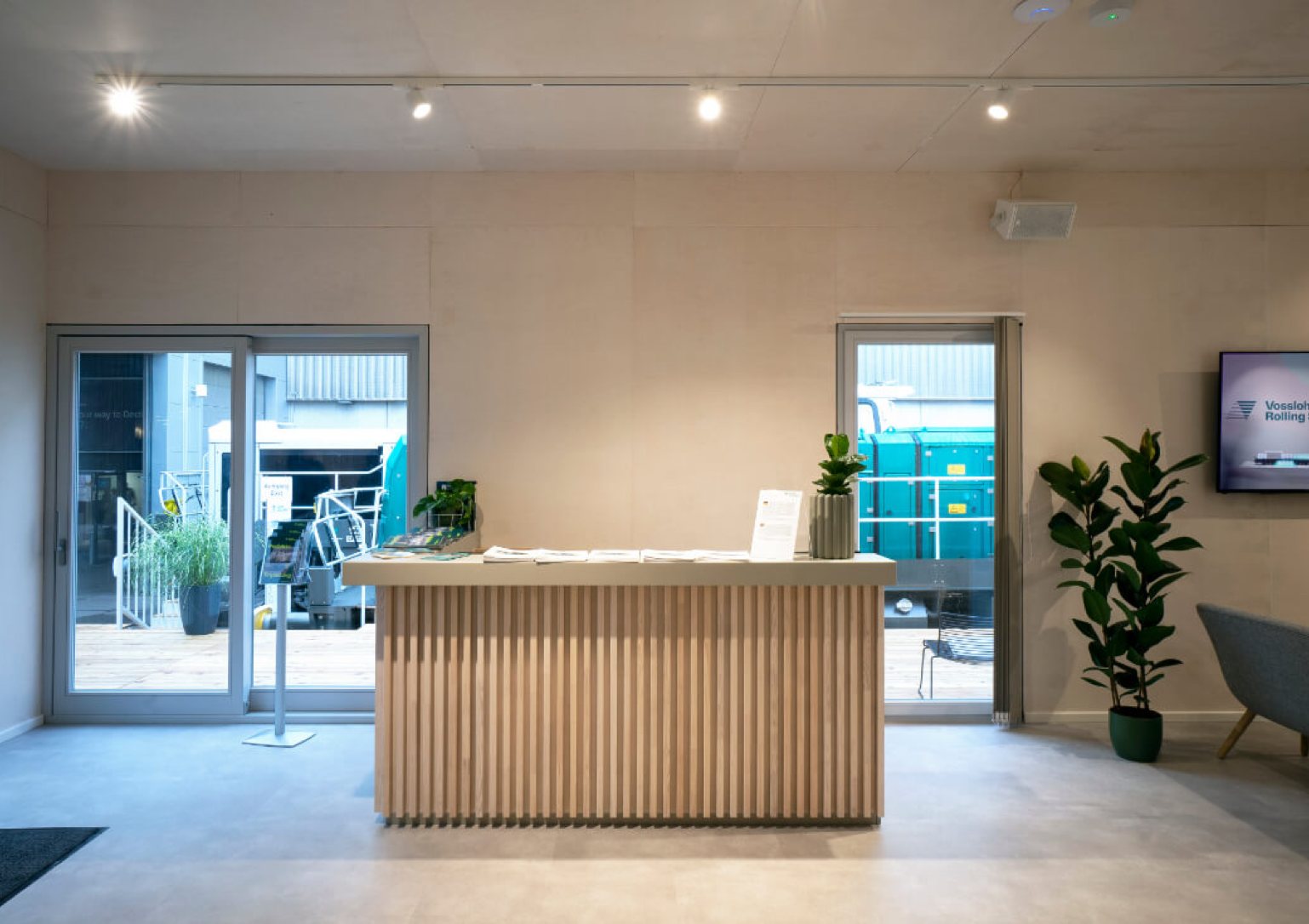 Strategy: Franziska Veh, Mark-Marcel Müller
Creative Direction: Franziska Veh
Brand Culture: Jens Hofmayer
Claim/Text: Mark-Marcel Müller
Design: Lind Haugaard, Aditi Kapur, Felicia Usinto, Callum O'Neill
Motion Design Brand: Stefan Sperner
Motion Design Social Media: Andryanto Wijaya
3D Renderings: muellerromca
Project Monitoring: Nea Kosma
Booth Design: undplus
Photography Booth: undplus